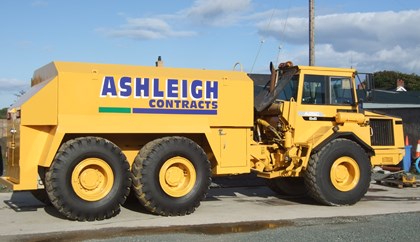 Dumptruck modified as a bunded fuel bowser and hydraulic oil dispenser
Typical adaptions have included the conversion of a standard A25 Dumptruck to a combined 2,000litre fuel and 1,000 litre oil bunded bowser.
Adaption of Hydraulic Rotators for lifting Coastal Defence Armouring Units
Other specialist in-house fabrication has included the following:-
Repair and strengthening of excavator buckets
Strengthening of Dumptruck and Tipper bodies to carry rock armour
Fabrication of Geotextile Rollers as excavator attachments 
Fabrication of security canopies for waterpumps
Hydraulic Lifting devices for remote release of concrete Armouring Units for placement below water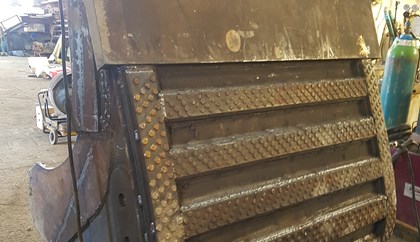 Bucket Refurbishment
The company has an ongoing requirement to repair and refurbish excavator buckets which are subject to high levels of wear from handling and placement of heavy and abrasive rock armour. Extensive use is made of hardox wear plates in order to maximise the life of rock armour buckets.